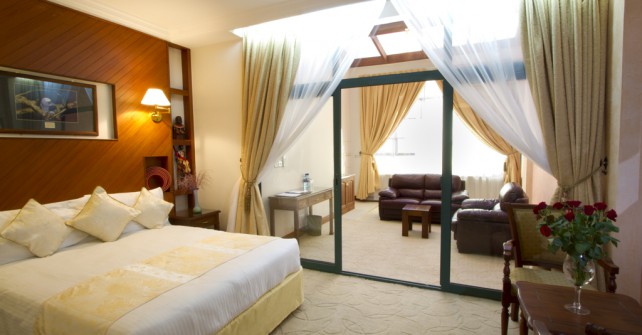 The Palace Hotel has TWO Studio Rooms. These apartments combine a living room, bedroom and kitchenette into a single area.
The most stunning feature of the Studio Rooms is the fitted polycarbonate roof that provides a moonlight effect at night – the stuff that drams are made of!
Other features of the Studio Apartments include:
Two TV sets with 32 inch flat screens – allowing you to keep up with world affairs as you relax after a trip around town or to the surrounding areas.
The living room provides you with a study table at which you can take a meal or sit comfortably as you write your journals and letters.
The living room is appointed with a luxurious sofa set
The bedroom is fitted with a comfortable King Size bed and is tastefully decorated with and Italian flair.
Your ensuite bathroom and shower is well appointed and provides you with bathrobes, slippers and a weighing scale.
Your Studio room has a stocked mini bar – allowing you to enjoy a cool drink after an excursion without the need to call down to Room Service.
An electronic safe is fitted – your belongings are always safe.