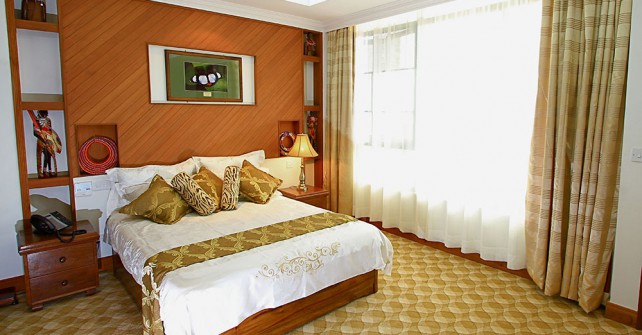 The Palace Hotel's Executive rooms are spacious and inviting. Each room is fitted with a king size bed covered in high-quality duvet and linen The rooms are located on the centre of the building offering you a breath taking site of both the Mount Meru and the Makongoro gardens below.
Other features of the Executive rooms include:-
Stylish and tasteful Italian décor
A hair dryer is provided.
A 32-inch flat screen TV set keeps you in touch with world affairs.
An electronic safe gives you peace of mind as you can safely store your important belongings when out and about on excursions.
The Executive room is equipped with a telephone in the en suite bathroom
To add to your comforts, the Executive rooms provide WiFi and LAN internet access.
The ensuite bathroom is finished with non- slip tiles & a shower cubicle. A weighing scale is also provided.