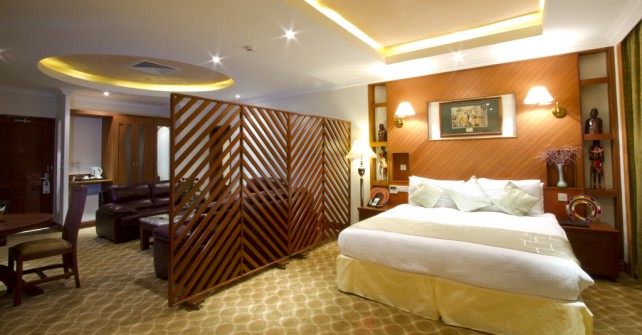 Your Executive Suite affords you
A spacious parlor fitted with elegant furniture made of mkongo timber
Each suite is fitted with a large and exceptionally comfortable Orthopedic king size bed
Your suite is appointed with an en suite bathtub and shower
All six of the Executive Suites have a balcony affording you an excellent panoramic view of your surroundings
To add to the luxuriance of your Suite, ceilings and walls have an Italian décor application
Satellite television is available to you in your Executive Suite
Windows are treated with a fitted wooden pelmet with rich curtaining and solid lining which allows for a black out effect – thus darkening the room to encourage a sound sleep.
Quality wall-to-wall carpeting providing warmth in the room that also mutes sound – adding to your personal comfort.
Mini bars are available in your Executive Suite.
In addition, you will find a Weighing scale, Bathrobes, and slippers in your en suite bathroom.
With all the extraordinary comforts of luxury, you are assured an excellent and comfortable stay in The Palace Hotel's Executive Suites.